5 minutes with Neve Studios
July 20th 2023
We got the opportunity to speak to Will from Neve Studios for 5 minutes to find out more about them, including why they started their business, their biggest challenges and successes, as well as what they love about working at BASE Bordon.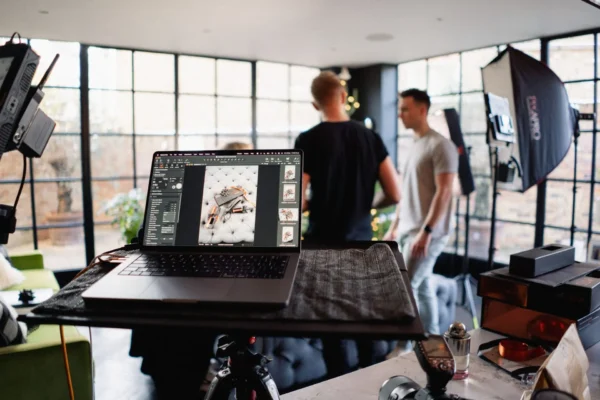 When and why did you start your business?
Névé Studios was founded in November 2017 but was bubbling for a while beforehand as Will, Tom and I worked as freelancers with the same clients and passed work between each other to cover more of the country. This is where the seed was planted that the commercial photography world was much too big for just us individuals, and our clients needed a team that could provide better service and support across the entire country. From here, Névé Studios slowly evolved to incorporate more services and capabilities, including high-end video production and animation to name a few. Product photography becoming a key part of our service was largely a result of Covid-19 restrictions creating a huge demand for this type of work, and we've been riding the wave and nurturing all of those new clients ever since.
What does your business do and who does it help?
We're a photography and video production studio, which itself is quite niche and sits in an interesting position within the market. Our clients range from small startups to global powerhouses, but due to our niche service we also work with a huge number of marketing and design agencies to compliment the services they provide to their clients. Consultancy has become more and more important as we've scaled and the projects we work on have become more valuable, where both small startups and global enterprises need guidance with what is often the same problem—how can we produce the most effective content with the budget available?
What do you love about working at BASE?
We moved to BASE during the very early stages of Névé Studios as we needed a space to work, a proper company address and somewhere for clients to send products to. We also wanted somewhere that we could grow within, as a concern of ours was getting tied into long and expensive leases that we would either not grow to fill or grow too fast and be difficult to get out of to move into a more suitable unit. BASE solved that problem, allowing us to move three times over the past few years and recently take on an additional unit as we begin outgrowing our main unit in the old co-working space. It's great brushing shoulders with like-minded people in the corridors and workspaces, and there's a real camaraderie rather than competition between the companies within BASE. It's also a great-looking building, that always impresses clients when they come in for meetings or shoots.
If there is anything you could share with other businesses about what you wished you knew when you started your business, what would it be?
Flexibility and agility is the most important thing in a fast-growing early-stages company. A scalable team, a scalable workspace, an adaptable service offering. When writing the initial business plan, these weren't key considerations of ours but we're fortunate to have naturally geared our entire business around the idea of flexibility and scalability at all times.
What has been your biggest challenge to date?
Growing pains. We've been growing at over 50% YOY since inception and as a serviced-based business, this has caused a number of headaches while growing to ensure we're able to offer the best possible service quality whilst scaling the business. Making big decisions about hiring, purchasing new equipment etc. at times that sometimes feel premature but you'll eventually grow into. These have been the biggest challenges for us and continue to be.
What has been your biggest success to date?
Successfully navigating all of the restrictions and challenges imposed during Covid-19 was a big success of ours. We adapted the business on the spot to introduce new services and ways of working to allow us to continue to service our existing clients and take on new clients that were either let down by their existing provider or were impacted by supply-chain issues etc. We came out the other side of Covid-19 as a much more resilient company, with new clients, new services and a much more robust business.
What is next for your business? What projects/ambitions do you have for the future?
AI is obviously the buzz-word of the moment is something we're looking to integrate in all parts of our business, including the way that it's run and also the service we're able to provide. This is something we're actively looking into incorporating into our business over the coming months and years. Apart from that, we're just continuing to grow at a sustainable rate whilst providing the best possible service for our clients.
More Blog Articles
November 3rd 2023
Catching up with Consultea
We got the opportunity sit down with one of our newest customers, Consultea, to find out more about their history, what they love about BASE, and their advice for new businesses.
October 12th 2023
5 minutes with Autolooms
We got the opportunity sit down with one of our newest customers to find out more about Autolooms' biggest challenges, best advice to growing businesses, and their favourite part of working at BASE. Autolooms Ltd specialise in the design, manufacture, and repair of electrical wiring looms typically used within the […]
October 2nd 2023
Meet the team at BASE Bordon
We think it's important for customers to get to know our team here at BASE, as this is what helps to form a community within our centre. For this reason we have created a series called 'Meet the team at BASE Bordon'. Today we got to find out more about Louise Bampfield, Customer Experience Assistant at BASE Bordon.