Exploring Artificial Intelligence for your Business
August 17 @ 11:30 am

-

1:00 pm
Event Navigation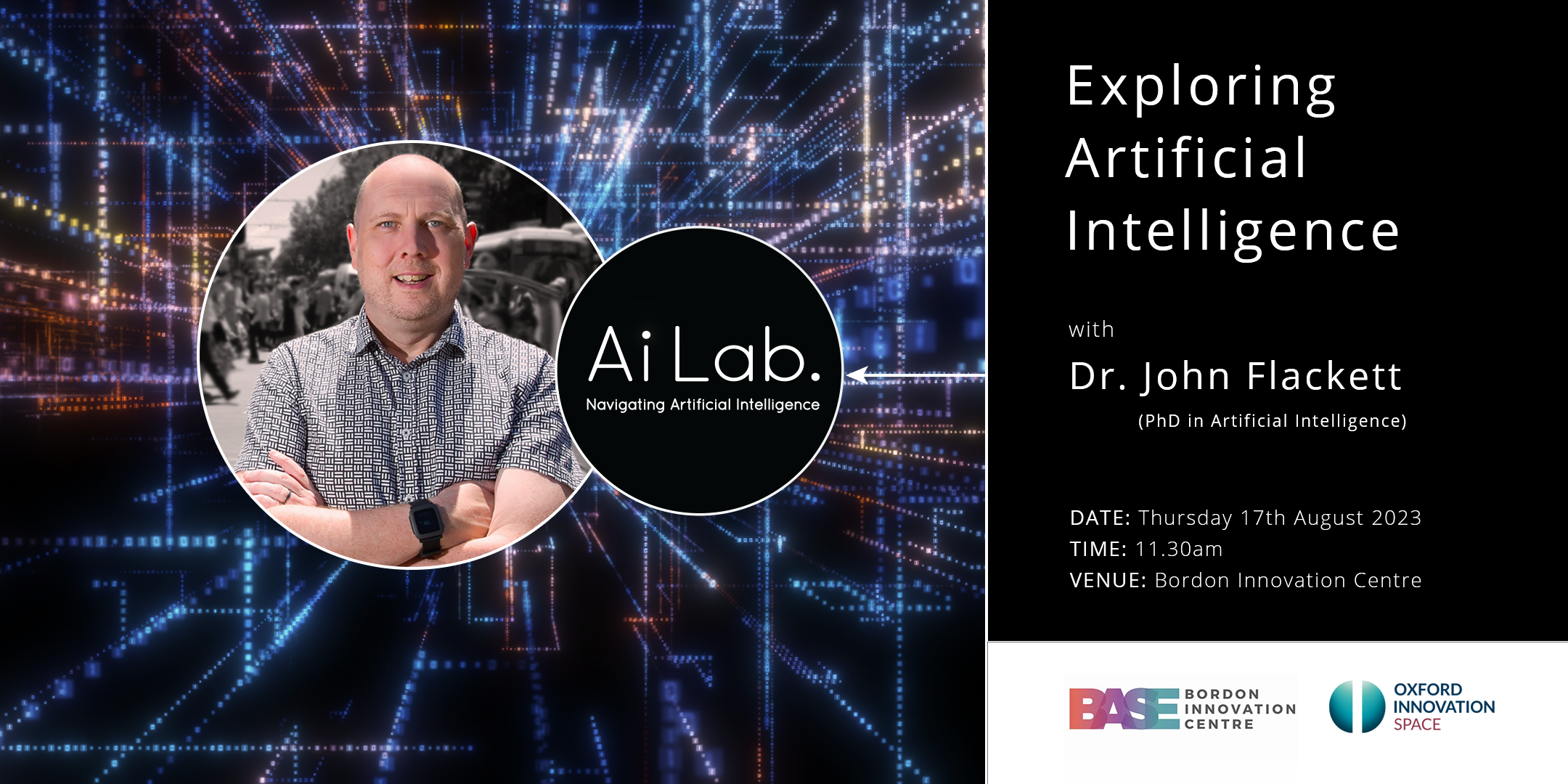 This event offers a fantastic opportunity to hear from Artificial Intelligence (AI) expert Dr John Flackett (PhD in AI) who is co-founder and head of AiLab (www.ailab.world).
With an introduction into what AI is, John will demystify common misconceptions, explore the opportunities AI presents, showcase real-world case studies, and provide practical insights on how businesses can start leveraging AI to their advantage.
John will also discuss the latest AI-powered large language models (such as ChatGPT) and the impact these new breed of AI tools are having on business processes.
With a deeper understanding of AI, individuals and organisations can identify areas where AI can enhance efficiency, improve decision-making, and drive innovation. If you are thinking of employing AI in business, you won't want to miss this event where John will provide the 3 main insights to get you started.
Speaker: Dr. John Flackett
John is the co-founder and head of AiLab (Artificial Intelligence Laboratory); a global company headquartered in Australia with offices in New Zealand and the UK, AiLab provides AI education programs and research.
John recently launched an 'AiLab at AUT' within Auckland University of Technology as part of AiLab's expansion, where John was also the AI Specialist in Residence and AI Ambassador for the university.
Working in AI for over 25 years, John is an international AI speaker, educator, and advisor. With a PhD in Artificial Intelligence, John has received various awards and previously spent a decade as a senior university academic teaching AI and Software Engineering in the UK.
Additionally, John serves as a member of the Australian Federal Government's Artificial Intelligence Action Plan Committee, he is a PhD supervisor to university students researching AI and is the co-founder of Adelaide AI – the largest AI networking community in South Australia.
This workshop is free for Base Bordon customers and visitors to attend and we hope to see you there. Please register quickly as spaces are limited.
If you are not a regular Base Bordon visitor (either through the networking or as a member) and would like to attend please message Sarah Hall on s.hall@oxin.co.uk