A great BASE for business
April 16th 2018
A thriving enterprise hub has been officially launched as part of the £50 million regeneration of a former army garrison in East Hampshire.
BASE Bordon Innovation Centre at Broxhead House, Bordon, brings together innovators, entrepreneurs and collaborators in a managed workspace setting.
Already home to twelve businesses, the former officers' mess has been transformed into 34 offices, co-working space, business lounge and meeting rooms, offering all customers an impressive environment with inclusive business growth support.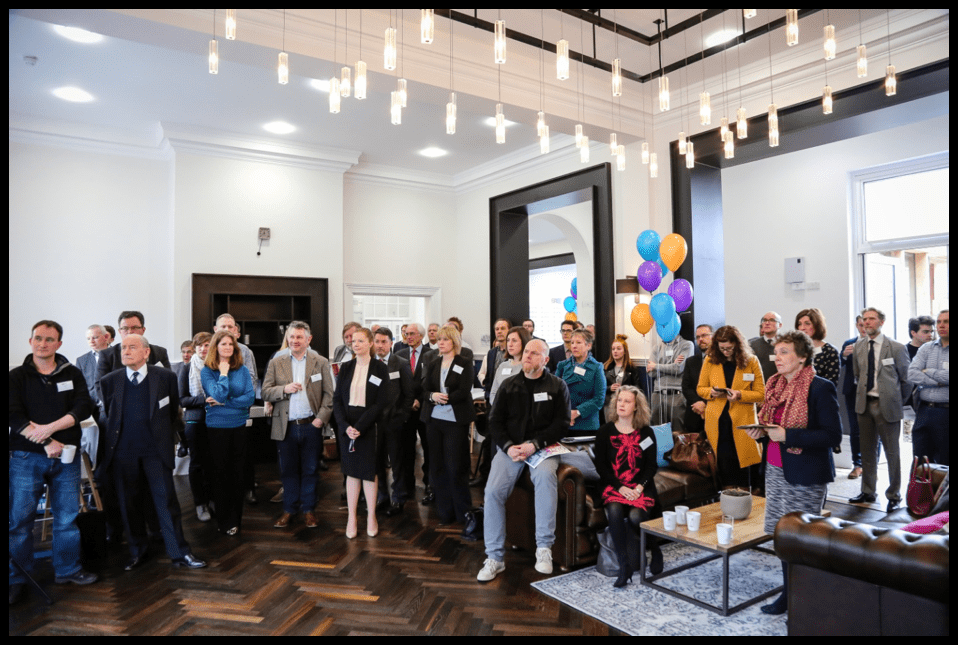 Current occupiers specialise in a range of sectors, including; aerospace, software, engineering, telecoms and digital media, generating high-value local jobs.
Attended by more than 80 guests from private and public sectors,the project was delivered by Homes England, and supported by Enterprise M3 Local Enterprise Partnership (LEP) and East Hampshire District Council.
The centre is managed on behalf of Homes England by Oxford Innovation, who manage a further 23 Innovation Centres across the UK, including four in Hampshire; Portsmouth Technopole, Fareham Innovation Centre and Ocean Village Innovation Centre in Southampton.
A plaque to commemorate the official launch was unveiled by Dr Mike Short CBE, Chair of Enterprise M3 LEP and Chief Scientific Adviser to the Department for International Trade, and Kevin Bourner, General Manager - SW Region, Homes England.
They praised the collaboration between the private and public sectors in delivering the enterprise hub, which will help drive internal investment.
David Crichton-Miller, Chief Executive of SQW Group, an economic development consultancy which is Oxford Innovation's parent company, gave the keynote speech.
He cited the importance of the vibrant employment space in the wider £50 million regeneration of the area, including hundreds of new homes.
Jobs being created at BASE, and through the wider supply chain, will help drive internal investment at Bordon so that it doesn't become a "dormitory town" where residents have to commute elsewhere for work.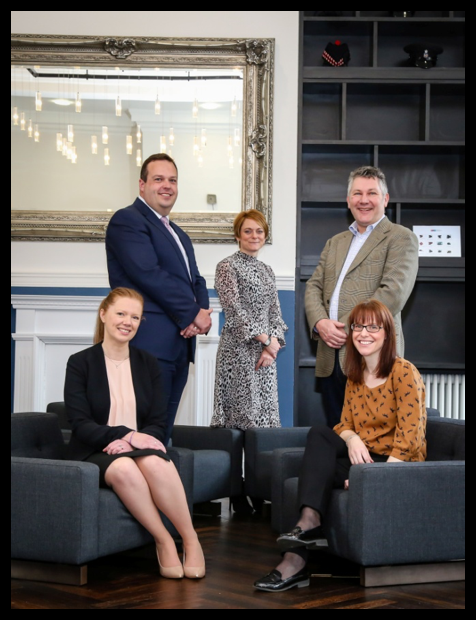 "The majority of economic growth comes from small to medium sized enterprises – providing for entrepreneurs, innovators and small businesses is now essential."
David Crichton-Miller, Chief Executive of SQW Group
Saying that it takes a village to raise a child, he publicly thanked the organisations which worked together to make BASE a reality.
They included; Homes England, Enterprise M3 LEP, East Hampshire District Council, Hampshire County Council, Rider Levett Bucknall, the project managers of the build and refurbishment, Concept, which carried out the building works, Oxford Innovation and the "many local residents and organisations" that took part and supported the development.
Woolmer Forest Heritage Society was credited for providing a body of heritage material – the 18-month conversion at Broxhead House includes features such as a display of military caps from various regiments with links to the former army barracks.
Jo Willett, Oxford Innovation's managing director, said after the event: "BASE is up and running, with nearly 30% occupancy following the arrival of 12 businesses.
"One of the valuable benefits that BASE offers customers is its on-site business support team, lead by our experienced innovation director, Richard May.
"Our team is not only on hand to guide business growth with specialist support and coaching, but also to open doors to funding opportunities and networks that make a significant difference to business success.
"Many BASE customers will be in the early stages of developing and growing their businesses. It is the ideal way to move out of your home office and into an inspiring community."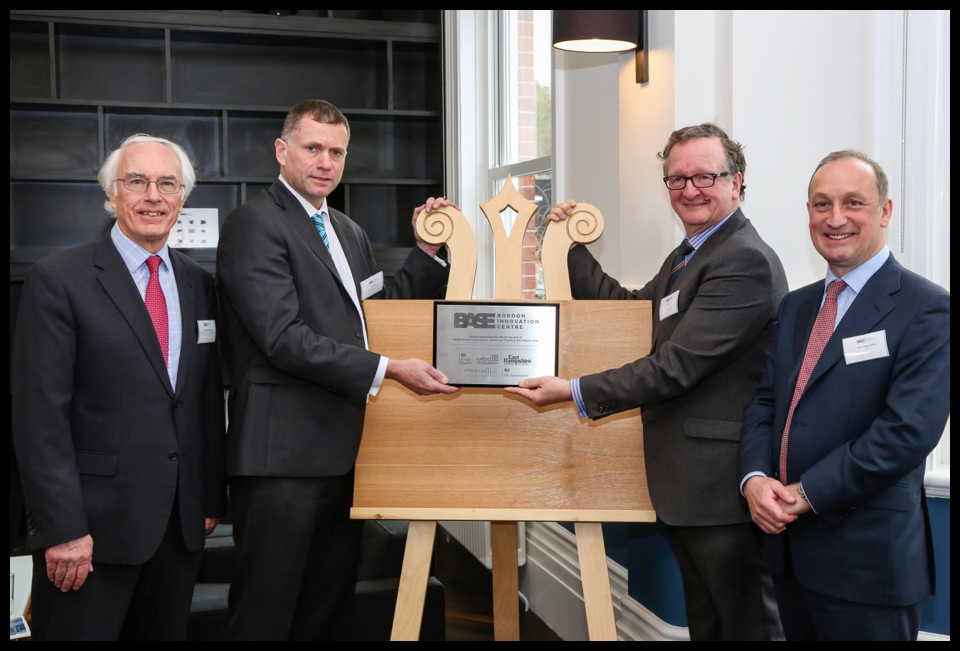 BASE is close to the 'sci-tech' corridor of the M3, which includes the aerospace engineering hub at Farnborough, with convenient access to the A3, London and South Coast.
Owned by Homes England, BASE has been significantly funded by a £4 million Local Growth Fund investment from Enterprise M3 Local Enterprise Partnership (LEP).
Located within the government-backed EZ³ Enterprise Zone, BASE offers a range of benefits for eligible businesses.
They include up to 100% business rates discount, worth up to £275,000 over a five-year period, high-quality business support, expert support to help access the government's R&D tax credit scheme and access to global markets through the Department for International Trade.
More Case Studies
September 19th 2018
Névé Studios Ltd
How did you start your company? Névé Studios started in much the same way as you'd expect – a great idea showed up, we mulled it over for all of about five minutes before getting up and simply running with it. All of us founding directors (Stu, Will & Tom […]
March 5th 2018
Real Life Digital
A highly specialised web development consultancy is the first business to move into a new innovation centre in East Hampshire. Real Life Digital, run by brothers Barry and Darren Fisher, signed up to a two-desk office with a "comfy sofa" at BASE Bordon Innovation Centre. They relocated the business from […]