Business hub celebrates first year with record occupancy
November 23rd 2018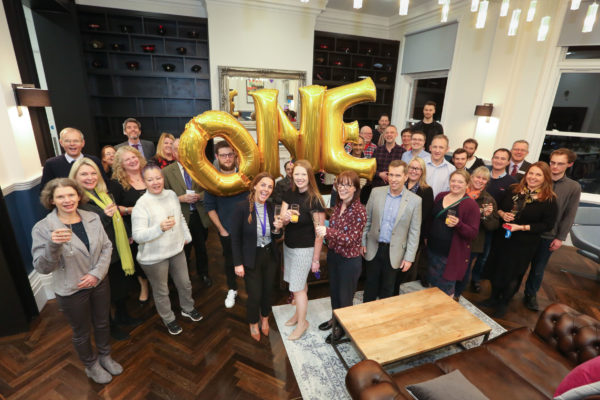 A thriving innovation centre for start-ups and early stage businesses has marked its first year with news that office occupancy is already at 74% – with further offices earmarked for tenancy early in the new year.
Managed by Oxford Innovation on behalf of Homes England, BASE Bordon Innovation Centre was sympathetically converted from a former British Army officers' mess and is now home to 29 exciting and innovative businesses.
The centre in East Hampshire boasts a total of 31 offices on flexible rental terms, dedicated desk and coworking spaces, business lounge, a selection of meeting rooms, virtual offices and inclusive business growth support.
Celebrating customers' achievements and their first year of operation, more than 30 occupiers and local business people joined the centre staff at BASE Bordon to mark the milestone. When the doors opened for the first time BASE Bordon had six office occupiers; the first of these were In-Space Missions and Real Life Digital.
Myf Plunkett, BASE Bordon's centre manager, told guests: "I'm proud to say all six original customers are still with us today and on their own paths and growth cycles – it's very exciting to see. "Twelve months on and we are now a thriving home to 29 businesses across our coworking space, private offices and business lounge. "They are from varying industries including fintech, software, aerospace, creative, recruitment, legal and accountancy.
"It's a mixed bag of wonderful people that works – we are very thankful for our community and I think BASE Bordon's biggest success to date is its community. "We have a vibrant community of people giving it their best and having a go. It's also great to see so many of our businesses working collaboratively."
BASE Bordon is one of four innovation centres in Hampshire managed by Oxford Innovation – the others are Portsmouth Technopole, Fareham Innovation Centre and Ocean Village Innovation Centre in Southampton. Funded by a £4 million Local Growth Fund investment from Enterprise M3 Local Enterprise Partnership (LEP), the former officers' mess underwent an 18-month refurbishment project.
Part of a wider £50 million scheme developing the whole of former military base, BASE Bordon Innovation Centre was officially launched in March 2018, the project having been delivered by Homes England and supported by Enterprise M3 Local Enterprise Partnership and East Hampshire District Council.
More
June 16th 2022
BASE shine a light on Mental Health Awareness Week
In May BASE Bordon introduced new Centre Manager, Aaron Bunney and put on several social events to mark Mental Health Awareness Week including a walk and talk, a virtual stretch mobility class and learn & lunch networking event. Mental Health and entrepreneurship is a really big issue. The stats speak […]
March 22nd 2022
Moving into BASE Bordon is a BREEZE!
We're delighted to welcome Breeze Logic to BASE Bordon Innovation Centre. Breeze's team of IT & Telco specialists have many years of experience gained in the corporate world and have brought their skills in Connectivity, Telephony, Mobile, IT, Cloud and Cyber security needs to the SME marketplace. Managing Director, Clinton […]
November 9th 2021
Business Showcase at BASE
We are excited to invite you to participate in our new series of customer showcases. The first session takes place on Thursday 18th November in the Business Lounge from 12:00. Refreshments and a light lunch will be provided. This will be a fantastic opportunity to hear from BASE businesses powerQuad, Marlay and […]